The use of this seal confirms that this activity has met HR Certification Institutes (HRCI) criteria for recertification credit pre-approval.
This activity has been approved for 6 HR (General) recertification credit hours toward aPHR, PHR, PHRca, SPHR, GPHR, PHRi and SPHRi recertification through HR Certification Institute (HRCI). Please make note of the activity ID number on your recertification application form. For more information about certification or recertification, please visit the HR Certification Institute website at www.hrci.org." ...more
---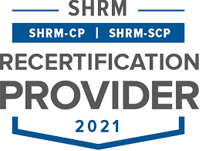 Viewing this 6-Hour Virtual Seminar, its entirety qualifies for a recertification credit hour that may be counted toward SHRM-CP and SHRM-SCP recertification from SHRM. Credit is awarded based on the actual educational time spent in the program.
Overview
Knowing what to do in increasingly complicated employee situations can be difficult for even seasoned Managers and Supervisors, especially if a Supervisor has never had training.
For a new Supervisor these problems are intensified. Employee problems easily morph into compliance and legal challenges and often with lighting speed while the Managers and Supervisor is still trying to get a handle on problematic situations.
Many have never been trained in even the rudimentary basics of employment law and therefore do not even recognize problem situations or their resultant pitfalls.
Nevertheless, by the time an employee problem reaches HR, a level of liability has often been created. How an employer handles such problems, can either limit or increase liability. Further exacerbating the problem is that Supervisors often inherit a dysfunctional department and/or are promoted to supervise those with whom they once were coworkers.
If Managers and Supervisors don't know how to avoid problems and the HR Dept. doesn't know how to recognize or fix problems, what can be solved as say, a mere miscommunication, can quickly turn into a costly lawsuit.
With this in mind, the instructor will take attendees through best practices to prevent litigation and general dysfunction by ensuring compliance with HR laws and employee relations and management practices from a Manager and Supervisor perspective.
Why you should attend
Why it's crucial to Manage from Day One
12 rules for documentation
Why Wage and Hour is problematic
Recognizing leaves of absence
What to do if someone is struggling doing their job for whatever the reason - having a process
What to do with employee complaints
Preventing harassment, bullying and general dysfunction
Using the 4 tools of a manager; coaching, performance reviews, performance improvement plans and discipline
Using performance management tools to help remove the fear from managers in managing the performance of, or taking employment actions towards low performing or problem causing employees
How to manage an employee who has complained
Inheriting a dysfunctional department - avoiding the pitfalls

Who Will Benefit
New HR Staff
Front Line Managers
Department or Branch Managers
Anyone newly Promoted to a Management Position
Managers who were Promoted from within their Companies
Small Business Owners