FDA announces voluntary recall of Montelukast tablets by Camber Pharmaceuticals due to incorrect drug in bottles
02, September 2018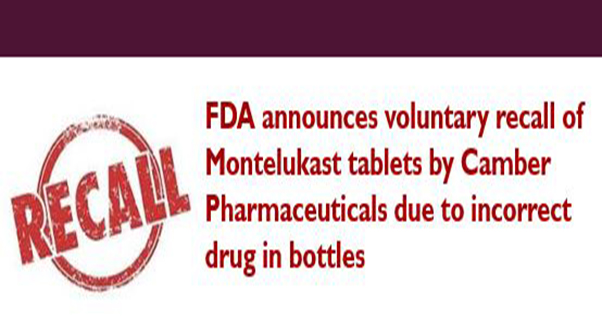 What happens when your doctor prescribes a drug for treating wheezing, chest tightness, breathing difficulty and cough induced by asthma in good faith, and you, in equally good faith, take those medicines, except that what you took were medicines meant for treating high blood pressure? It is neither your mistake nor the doctor's. It is a case of the pharmaceutical company mixing up drugs.
This is what the FDA discovered during an inspection: A lot of Montelukast tablets manufactured by NJ-based Camber Pharmaceuticals contained losartan tablets instead of the labeled molecule. The lot number in question, MON17384, which is set for expiry on 31 December 2019, sealed and labeled as Montelukast sodium tablets 10 milligrams, 30 tables, actually contained a completely unrelated drug, Losartan Potassium Tablets, 50 mg, in a pack of 90 tablets.
What happens when a patient unwittingly consumes losartan when she is not prescribed this drug? The consequences can range from renal dysfunction, raised potassium levels, and a fall in blood pressure. It is all the more dangerous for pregnant women, as it can even kill the fetus
What should the consumer do?
The FDA has recommended that patients who have this medication from this lot number should immediately contact their healthcare provider or their pharmacy.
In case of an unfortunate adverse event, the FDA looks forward to having this reported from healthcare professionals and consumers to the FDA's MedWatch Adverse Event Reporting program:
Completely different kinds of drugs
The two medications, losartan and Montelukast are totally different classes of drugs. While losartan is used for treating high blood pressure and reduce the risk of stroke in patients with hypertension and enlargement of the walls of the left side of the heart-a condition called left ventricular hypertrophy-Montelukast, which belongs to a class of medications known as leukotriene receptor antagonists (LTRAs), blocks the action of substances in the body which lead to asthma and allergic rhinitis.
This exercise is part of the FDA's ongoing efforts at containing incidents such as this, which could potentially have serious outcomes. Till date, the FDA has not yet received reports of any adverse events related to this drug from patients.
How to recognize if the Montelukast bottle with you is the impugned one
Firstly, look for the name of the manufacturing company
If it is from Camber Pharmaceuticals, look for the lot number, which is MON17384
Its expiration is December 31, 2019
Its NDC is 31722-726-30